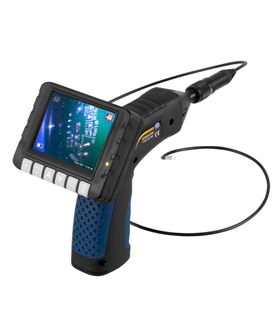 PCE-VE 180 Industrial Borescope
LED illumination / MicroSD memory / Detachable remote control display / 3.9 mm (.16 in) small diameter waterproof camera head / 1 m (3.28 ft) cable length
PCE-VE 180 is a rechargeable handheld pistol-grip industrial borescope inspection camera with video recording and image capture functionality. Equipped with built-in LED lighting on the waterproof camera tip, the PCE-VE 180 industrial borescope features a detachable remote control with integrated 3.5'' LCD for easy viewing and navigation.The remote control communicates using radio transmission at 2.4 GHz.The industrial borescope is powered by a rechargeable battery that allows for up to 3 hours of continuous use.Recorded images and videos are saved to a MicroSD memory card with a capacity of up to 32 GB.The semi - flexible gooseneck cable of the borescope has a small diameter of just 3.9 mm / .16 in for insertion into tiny cavities.An IP67 ingress protection rating protects the borescope's camera head against dust and water, allowing for use in adverse conditions. The borescope comes with three different attachments: a 90° angle mirror for viewing side walls and around corners, as well as a hook and a magnet for pulling parts out of cavities.
***Not for medical use***
- Semi-flexible gooseneck cable
- 1 m / 3.28 ft cable length
- 3.9 mm / .16 in cable diameter
- IP67 ingress protection rating against water, oil and dust
- Image capture and video recording functionality
- 30 ... 80 mm / 1.18 ... 3.15 in focal distance
- 2.4 GHz remote control radio transmission
- Powered by rechargeable battery
- 1280 x 980 pixel interpolated resolution
- Includes AC power adapter / battery charger
Cable length : 1 m / 3.28 ft
Type of cable : Semi-flexible (gooseneck)
Cable diameter : 3.9 mm / .16 in
Illumination : 2 LEDs
Resolution : 1280 x 980 pixels (interpolated)
Ingress protection rating : IP67 protection against water, oil and dust
Focal distance : 30 ... 80 mm / 1.18 ... 3.15 in
Field of view : 60°
Display size : 3.5'' / 320 x 240 pixels
Memory formats : Images: JPG / BMP,Video: AVI
Memory : Micro SD card (max. 32 GB)
Radio transmission : 2.4 GHz
Power supply : Remote / display: Li-Ion 3.7 V 1200-mAh,Pistol grip: Li-Ion 3.7 V 1600-mAh,AC power adapter / battery charger: 5V / 2 A
Battery life : Approx. 1 ... 3 hours continuous use