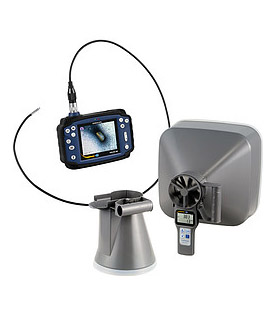 PCE-VE 200 Industrial Borescope
Video inspection camera for nondestructive evaluation (NDE) and machine diagnostics
PCE-VE 200 is a video inspection camera, for nondestructive evaluation (NDE) and machine diagnostics. The PCE-VE 200 video borescope provides excellent image quality at an affordable price. An ideal tool for diagnosing hard-to-reach places, the scope can be rotated 180 ° and offers 6 LED lights with adjustable intensity for optimal illumination. In addition, digital image magnification or zoom of up to 4 times is available.
The borescope stores the recorded images and videos directly to a micro SD card memory. The 3.28 ft cable length and 0.18 in cable diameter allow the video inspection camera unique access to view the insides of walls, pipes, vents, ducts, engines and machinery, thus eliminating the need for costly and time-consuming dismantling. Mechanical engineering, manufacturing, automotive, aviation, construction, plumbing and heating, ventilation, air conditioning and refrigeration (HVACR) professionals alike find this video inspection camera useful in a variety of applications.

Air Flow Meter PCE-VA 20 -SET incl. Flow hood
Impeller anemometer with backlit / 10 cm diameter impeller / for measuring various parameters / parameters / extreme value measurement / HOLD function / auto power off / Low battery warning indicator
The impeller anemometer is a measuring instrument for various wind related parameters. It has got an impeller diameter of ten centimeters. Moreover, if required, it is possible to order a set of flow hoods which provide a fast and reliable method which helps to use the 100 mm large impeller head optimally. The flow hoods can be ordered only as a set which consists of one round and one square flow hood. The round flow hood comes with a diameter of 210 mm and the square flow hood has the dimensions of 346 x 346 mm. This allows checking ventilation systems, air conditioning systems or similar with the help of the flow anemometer. For that purpose the flow hood is mounted on the impeller anemometer and then the whole construction is placed on the air source to be tested. The rubber at the end of the flow hood ensures that the checked chambers are closed.
The impeller anemometer PCE-VA 20 allows measurements of wind speed, flow, temperature, relative humidity, dew point and wet bulb temperature. This is a versatile environmental meter, which provides extensive measuring results. The impeller anemometer also provides extensive features such as an extreme value measurement, HOLD function, backlight, automatic power off and a low battery charge warning function. It all makes it and as much easy and comfortable as possible for the user.
Industrial Borescope
3.5 in LCD display
3.28 ft cable length
0.18 in cable diameter
1/8 in camera head / CMOS chip image sensor
1600 x 1200 pixels JPEG image / 640 x 480 pixels AVI video resolution
Micro SD card memory
Micro USB 2.0 and TV outputs
Air Flow Meter
incl. Flow hood
10 cm diameter impeller
Backlight
Automatic power off
Extreme value measurement
HOLD function
Low battery indicator
Borescope
Display : LCD, 3.5 in
Resolution : 1600 x 1200 pixels JPEG image / 640 x 480 pixels AVI video
Image rotation : 180 ° and mirror functionality
Freeze functionality : Yes
Zoom : Up to 4 times digital image magnification
Menu languages : English, Spanish, French, German, Russian, Japanese, Simplified Chinese, Traditional Chinese
Cable diameter : 4.5 mm / 0.18 in cable diameter
Cable length : 1 m / 3.28 ft
Cable rigidity : Semi-flexible (semi-rigid spiral)
Camera head : 1/8 in CMOS chip image sensor
Lighting : 6 white LEDs (adjustable intensity)
Field of view / perspective : 90 °
Sight depth : 15 ... 100 mm/0.59 ... 3.93701 in
Power supply : Li-ion battery
Battery capacity : 2600 mAh
Operating conditions
Main unit and probe, in air : -10 ... +50 ° C / +14 ... +122 ° F, rel. humidity 15 ... 90%
Probe, in water : +5 ... +50 ° C / +41... +122 ° F
Fluid resistance Main unit and probe : Machine oil, light oil or 5% saline
Protection against Main unit Probe : Blowing rain (battery compartment must be closed), not underwater Water, oil and dust, according to protection class IP67
Air Flow Meter
Wind speed measuremen range : 0.2 ... 30 m / sec.
Wind speed accuracy : <20 m / sec .: ± (1.5% of the MW + 0.3 m / sec.),> 20 m / sec .: ± (3% MW of +0.3 m / sec.)
Air temperature measuring range : -20 ... +60 ° C
Wind temperature accuracy : ± 0.6 ° C
Wind temperature resolution : 0.1 ° C / ° F
Humidity measuring range : 0.1 ... 99.9% RH
Humidity resolution : 0.1% RH
Humidity accuracy : ± 3% RH (at 25 ° C and 10 ... 90% RH) other: ± 5% RH
Temperature response time : 60 seconds
Humidity response time : 60 seconds
LCD update : 1 x per second
Wet bulb temperature display : -20 ° C ... +59,9,9
Dew point display : -5 ... +59.9 ° C
Flow rate display : 0.1 (0 ... 9999.9) or 1 (10000 ... 99999)
Automatic power off : after 20 minutes of inactivity
LCD size : 32.5 x 54 mm (H x W)
Operating Conditions : 0 ... + 50 ° C, RH <80%
Storage conditions : -10 ... +50 ° C, RH <90%
Dimensions : 269 x 106 x 51 mm
Weight approx. : 200 g
Power supply : 4 batteries (AAA)