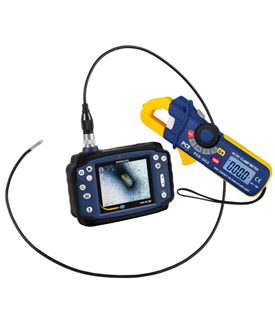 PCE-VE 200 Industrial Borescope
Video inspection camera for nondestructive evaluation (NDE) and machine diagnostics
PCE-VE 200 is an industrial borescope for nondestructive evaluation (NDE) and machine diagnostics. The PCE-VE 200 video borescope provides excellent image quality at an affordable price. An ideal tool for diagnosing hard-to-reach places, the scope can be rotated 180 ° and offers 6 LED lights with adjustable intensity for optimal illumination. In addition, digital image magnification or zoom of up to 4 times is available.
The borescope stores the recorded images and videos directly to a micro SD card memory. The 3.28 ft cable length and 0.18 in cable diameter allow the video inspection camera unique access to view the insides of walls, pipes, vents, ducts, engines and machinery, thus eliminating the need for costly and time-consuming dismantling. Mechanical engineering, manufacturing, automotive, aviation, construction, plumbing and heating, ventilation, air conditioning and refrigeration (HVACR) professionals alike find this video inspection camera useful in a variety of applications.
Clamp Meter 2/80 Amp; AC/DC (of high accuracy)
This Clamp Meter has been developed to determine indirectly, the the AC/DC currents with high accuracy. A non-contact clamp meter and a torch to illuminate the area being measured, have been integrated into this device.
The small size of this Clamp Meter, makes it possible to use in small spaces with limited access. The large illuminated display of this Clamp Meter guarantees clear readings in dark places such as in distribution boards. The non-contact Clamp Meter will help you when exposed to potential risk and to locate with precision, break points in cables within distribution boards, etc.
Borescope
- 3.5 in LCD display
- 3.28 ft cable length
- 0.18 in cable diameter
- 1/8 in camera head / CMOS chip image sensor
- 1600 x 1200 pixels JPEG image / 640 x 480 pixels AVI video resolution
- Micro SD card memory
- Micro USB 2.0 and TV outputs
Clamp Meter
- 4 digit LCD display with backlighting
- AC/DC current measurement up to 80 Amps
- save function
- DCA zero rest function
- current tester, non-contact
- integrated light to illuminate measured area
- automatic range selection
- automatic disconnect
- clamp diameter: 18 mm
Borescope
Display : LCD, 3.5 in
Resolution : 1600 x 1200 pixels JPEG image / 640 x 480 pixels AVI video
Image rotation : 180 ° and mirror functionality
Freeze functionality : Yes
Zoom : Up to 4 times digital image magnification
Menu languages : English, Spanish, French, German, Russian, Japanese, Simplified Chinese, Traditional Chinese
Cable diameter : 4.5 mm / 0.18 in cable diameter
Cable length : 1 m / 3.28 ft
Cable rigidity : Semi-flexible (semi-rigid spiral)
Camera head : 1/8 in CMOS chip image sensor
Lighting : 6 white LEDs (adjustable intensity)
Field of view / perspective : 90 °
Sight depth : 15 ... 100 mm/0.59 ... 3.93701 in
Storage medium : Micro SD card
Interfaces : Micro USB 2.0, TV output (PAL), Micro SD card slot
Power supply : Li-ion battery
Battery capacity : 2600 mAh
Operating conditions
Main unit and probe, in air : -10 ... +50 ° C / +14 ... +122 ° F, rel. humidity 15 ... 90%
Probe, in water : +5 ... +50 ° C / +41... +122 ° F
Fluid resistance
Main unit and probe : Machine oil, light oil or 5% saline
Protection againstMain unitProbe : Blowing rain (battery compartment must be closed), not underwater Water, oil and dust, according to protection class IP67
Clamp Meter
AC current : (50 / 60 Hz),Range / Resolution / Accuracy,2 A / 1 mA / ± 2.8 % +10 dgt,80 A / 100 mA / ± 3.0 % +8 dgt
DC current : Range / Resolution / Accuracy,2 A / 1 mA / ± 3.0 % +10 dgt,80 A / 100 mA / ± 3.0 % +8 dgt
AC overload protection(non-contact) : 100 VAC up to 600 VAC 50 / 60 Hz
Measurement area illumination : Measurement area illumination
Conductor diameter : 18 mm maximum
Display : 3 2/3 digit LCD display with backlighting
Power : 2 - 1.5V AAA batteries
Casing : PVC
Dimensions : 164 x 65 x 32 mm
Weight : 175 g
Standards : EN61010-1; CAT II / 600V,EN61010-2-032; CAT III / 300V