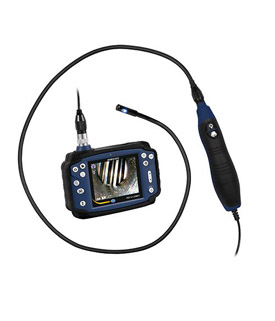 PCE-VE 200SV1 Industrial Borescope for nondestructive machine diagnostics / Side view camera / Camera head diameter: 9 mm (0.4 in) / 3.5'' LC display / 2600 - mAh battery / Cable length 1 m(3.3 ft) / Card slot for micro SD card
The PCE-VE 200SV1 is a nondestructive inspection camera. Thus, the PCE-VE 200SV1 is the ideal tool for diagnosing hard to reach areas. For example, the areas of mechanical engineering, plumbing and heating, and the entire construction and construction industry are among the main uses of the PCE-VE 200SV1. Also, the PCE-VE 200SV1 is suitable for use in the automotive industry. The fact that it has a camera tube of one meter in length, it is possible to use the PCE-VE 200SV1 so that in many cases disassembly of machines or motors is not necessary. Conversely, this means a time and money savings.
On the camera head of the PCE-VE 200SV1 are bright LEDs, which can be controlled and adjusted by the user on the device. The LEDs have different levels of brightness, allowing for optimal illumination at the point of interest. It can not lead to over exposure, which would cause the image shown on the screen no longer recognizable, because the camera of the PCE-VE 200SV1 is dazzled. In addition to the lighting, there is also the function of a digital enlargement for the current image section. Here you have the 2-fold, 3-fold or 4-fold magnification level available. The recorded pictures and videos are automatically saved to the micro SD card. This means that you can later read and document the images from the PCE-VE 200SV1.
- 9 mm / 0.4 in cable diameter
- 3.5'' display
- Brightness adjustable on the camera head
- 2600-mAh battery
- Cable length 1 m / 3.3 ft
- SD card slot for Micro SD card
Display : 3.5'' LCD
Resolution video function : AVI (640 x 480)
Resolution image function : JPEG (1600 x 1200)
Image rotation : 180° rotation and mirror function
Freeze function : Yes
Zoom : up to 4-times
Storage medium : Micro SD card
Menu languages : German,English,Spanish,French,Russian,Japanese,simplified Chinese,traditional Chinese
Interfaces : Micro USB 2.0, TV output, Micro SD card slot
TV output : PAL
Power supply : Li-ion battery
Battery capacity : 2600 mAh
Operating conditions : -10 ... 40°C / -10 ... 104°F, rel. Humidity <75%
Technical specification of the PCE-VE 200SV1 (borescope cable)
Cable diameter : 9 mm / 0.4 in
Image sensor : 1/8'' CMOS chip
Resolution camera : 640 x 480 pixel
Lighting the camera : 4 LEDs on the front, 2 LEDs on the side
Field of view / angle of view : 90°
Brightness control : Manually
Sight depth : 15 ... 100 mm / 0.6 ... 3.9 in, front camera; 3-50 mm / 0.1 ... 2 in side camera
Length of camera tube : 1 m / 3.3 ft
Pushcable : Malleable, soft metal
Ambient conditions of the PCE-VE 200SV1
Operating temperature
Probe
In air: -10 ... 50°C / 14 ... 122°F
Main unit
In the air: -10 ... 50°C / 14 ... 122°F
Relative humidity
Probe and main unit
15 ... 90%
Fluid resistance
Probe and main unit
Machine oil,light oil or saline 5 %
15 ... 90%
Protection against intrusion
Probe
Water, oil and dust, according to protection class IP67
Main unit
Rain in wind (battery compartment must be closed)
Not under water