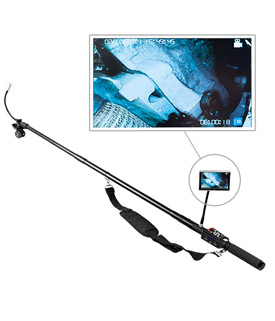 PCE-IVE 320 Industrial Borescope with Telescoping Pole
Industrial endoscope, videoscope or borescope on an extension rod / Ideal for gutter, chimney and home inspections as well as under-vehicle security and tactical use
The Industrial Borescope is the ideal solution for inspecting hard-to-reach places. This industrial borescope, inspection camera, videoscope or industrial endoscope comes with a rigid telescoping pole that extends up to 2.3 m (7.6 ft) in length (3 m / 9.8 ft long total with camera connection). Plus, the industrial borescope's 0.3 megapixel camera has a 23 mm (0.91 in) diameter flexible head with microphone and 12 white LEDs offering adjustable brightness. A 12.7 cm / 5'' LCD monitor with 800 x 480 pixel resolution allows for live viewing. For video recording, the industrial borescope accommodates SD memory cards from 2... 32 GB.An SD card reader is included in the delivery contents.
The industrial borescope allows quick and easy viewing, monitoring and diagnosis of inaccessible areas of machines, engines and equipment. The borescope is a useful tool for recognizing potential hazards or broken parts. The device's flexible camera head can be bent to capture images at any angle. Includes wheel attachment for under vehicle inspection. The brightness of the LEDs on the camera head can be conveniently adjusted by means of a thumb wheel located on the handle of the telescoping pole. The borescope also features a microphone for obtaining audio (headphone included).
***Not for medical use***
23 mm (0.91 in) diameter flexible camera head
LCD monitor
12 LEDs offer adjustable brightness
Telescopic pole extends up to 2.3 m (7.6 ft) in length (3 m / 9.8 ft long total with camera connection)
Video recording capability
SD card memory
Microphone for obtaining audio (headphone included)
Includes wheel attachment for under vehicle inspection
Spare battery to allow all day operation
Camera
Camera head : 1/4 CMOS
Pixel : 0.3 Megapixel
Lighting : 12 x LEDs (white)
Camera length : 320 mm / 12.60 in
Camera diameter : 23 mm / 0.91 in
Monitor
LCD : 12.7 cm / 5'' screen
Full dimensions : 130 x 80 x 10 mm / 5.12 x 3.15 x 0.39 in
Resolution : 800 x 480 pixels
Telescopic pole
Maximum length : 2.3 m / 7.6 ft
Minimal length : 0.9 m / 3 fg
Rechargeable battery
Battery capacity : 1500-mAh
Output voltage : 12V DC, 500-mA, 5-hour runtime
Battery charger
Input voltage : 100 ... 240V AC, 50 / 60 Hz
Output voltage : 12V DC, 500-mA, 4-hour charge time
Video recording
Output : 704 x 576 (PAL)
Video format : MPEG-4
Recording format : ASF
Memory : 2 ... 32 GB SD card
General specifications
Overall length : Maximum 3 m / 9.8 ft
Operating conditions : -20 ... 50°C / -4 ... 122°F
Weight : 1.5 kg / < 1 lb