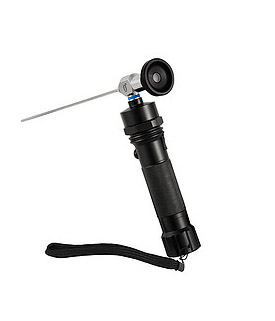 Rigid industrial borescope with a working length of 175 or 432 mm (6.9 or 17 in) / Diameter only 4 mm / LED bulbs / Rugged metal housing / Battery operation
Rigid borescope for visual inspection in small and narrow holes and cavities. With a diameter of 4 mm and a length of 175 or 432 mm / 6.9 or 17 in ,this rigid borescope is very versatile. The integrated LED lamp allows for a very good illumination of cavities to be inspected.
For image transmission, this rigid borescope uses a lens system with a field of view of 45°. The rigid borescope is robust and designed for industrial environments. This rigid borescope provides very high resolution images with high sharpness. A mirror attachment is available as an option on this rigid borescope. The rigid borescope is very well suited for inspections of small objects.

***Not for medical use***
- Diameter only 4 mm / 0.16 in
- LED bulbs
- Working length 175 or 432 mm / 6.9 or 17 in
- Extremely robust
- High resolution
- Battery operation
Effective length : 175 or 432 mm / 6.9 or 17 in depending on model
Diameter : 4 mm / 0.16 in
Field of view : 45°
Lighting : LED
Power supply : 3.7V Li-Ion battery (rechargeable)