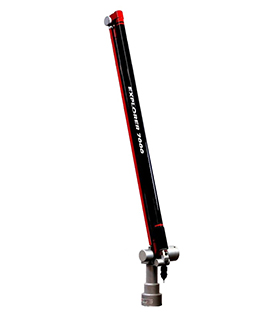 When The Need Is To.. Explore
The EXPLORER is available with 5, 7 and 9 m diameter. It is the perfect equipment when you need to explore large parts with great flexibility, representing our solution to face the toughest challenges. Every situation that was previously impossible now is made possible.
Perfectly Balanced
Then the dimensions are important, every aspect becomes critical in obtaining the best results. For the EXPLORER line the balance plays a fundamental role, allowing to the reduce the loads carried by the user during the measurement session. This not only allows a comfortable handling despite the incredible size, it also makes the arm surprisingly accurate.
Compatible With Everything
The EXPLORER line is available with any configuration available for the SPACE Plus line. It works perfectly for touch inspection with the probe and, with the 7 axes configuration, it can also work with a scanner for point cloud measurements or reverse engineering.